Calling all Trabant owners and enthusiasts in Sussex!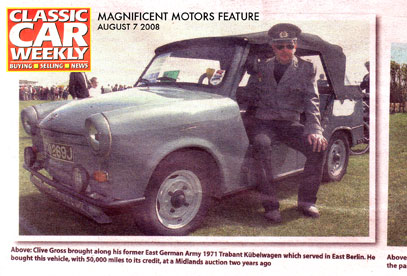 The Sussex Trabant Club aims to provide a network for all lovers of and enthusaists of this fine two stroke powered, Duroplast bodied driving machine across East and West Sussex.
I finally bought my Trabant Kubelwagen in 2006 after years of wanting one as a result of numerous trips to Berlin and the former East Germany (DDR) since the early 90's to present day and being driven up the Brocken in the Harz Mountains in one.
My search came to an end while cuising eBay and spotting a Kubelwagen up for grabs. Knowing not many of these ex-army vehicles made in over to the UK, I decided it was time to take the plunge...
For more information, please take a tour of the site, or email info@sussextrabant.org.uk